Superior Education
LONGARM QUILTING WITH METALLICS
METALLIC THREAD
LONGARM QUILTING
TENSION
NEEDLES
By Sarah Thomas for Superior Threads
Learn to love quilting with Superior Metallics
When your quilting deserves the additional element of elegant luster or glistening shimmer, then do I have a recommendation for you: Superior Metallics. Superior Metallics are specifically designed for quilting, decorative stitching, and embroidery by undergoing a special production process (many special processes, actually) to make them vibrant, strong, and smooth for a perfect finish every time. Guaranteed. If sparkle speaks to you, then you've already started on the right path by choosing Superior Metallics for your quilt.
Unfortunately, the generic metallic thread has tainted the reputation of all metallic threads in the quilting world. This is due to many low-quality metallic threads which quilters try once and then assume all metallic thread is the same. Metallic threads are not all created equal.
Superior Threads metallic thread
Metallic thread looks amazing when quilted
Quilting with metallic thread looks great in many different quilting scenarios: an all-over edge-to-edge design, individual motifs, or filler work. While most of us think of the color Gold when it comes to metallic threads, there's actually 25 different colors of Superior Metallics. Gold, silver, green, blue, pink, purple, copper, brown, black, even pastel tones. The color palette allows you to be really creative when it comes to contrasting or blending stitches. There are also two variegated metallic threads that appear to increase the texture and color depth when quilted.
I'm also a fan of the three different put-ups (sizes of cones and spools), as I can buy a cone of a color that I know I'll use a lot of and a spool of a color when I want to try it out to see if the color will work on a quilt. The three put-ups are a 500 yd. spool, a 1,090 yd. mini cone, and a 3,280 yd. cone. I've found that it's really handy to have a color card, too. Nothing beats using the actual thread as a color reference.
Through many, many hours of quilting with Superior Metallics on my Handi Quilter Fusion and Sweet Sixteen longarm machines, I am eager to share a few tips on how to achieve sparkling success with metallic thread.
Step 1: Using the right needle
While often overlooked, a dull or incorrectly-sized needle can be the bane of your quilting existence. To ensure great quilting every time, you must always choose the proper size needle for your thread. Superior Metallics is 40 wt. thread and should be paired with a #18 or #19 needle. Groz-Beckert needles are widely used for longarm machines and I've been very pleased with their consistent quality. The size of the needle is relevant because too small of a needle can cause the thread to break and/or shred. Remember that we're stitching over one thousand stitches per minute and even a tiny burr or snag in the needle or along the thread path can cause thread breaks. The type of fabric will also determine what style of needle to use. I typically quilt with a sharp needle style - using ballpoint needles when quilting on knits, like T-shirt quilt, or specific batik fabrics.
Step 2: Bobbin thread
Please, please, please use a high quality thread in your bobbin! I can't tell you how many quilters become frustrated while quilting and it's due to using poor quality thread, in the bobbin or top. My preference is to utilize prewound bobbins. I love the convenience of not winding my own bobbins and being able to match colors (prewound bobbins are available in a large selection of colors). I feel like I can quilt forever because prewounds tend to have far more thread on them than a self-wound bobbin. My top choice for prewound bobbins are Superior's SuperBOBs. SuperBOBs are prewound bobbins with The Bottom Line 60 wt. 2-ply polyester thread. Make a mental note here - Bottom Line #623 Silver is pretty much the magic color and will blend to near invisibility on your quilting.
There is absolutely an occasion when we just need that beautiful metallic shine on the quilt back. I'm happy to tell you that YES, you can 100% use Superior Metallics in your bobbin. When you wind your own bobbin with Superior Metallics, wind it slower than you normally do to help reduce over-tensioning the thread. If you're winding it on a longarm bobbin winder, I set my speed setting between 2-3 during the winding process. I double check my bobbin tension and make necessary adjustments and voila, it's time for dual metallic stitching.
Groz-Beckert longarm needles
M-style SuperBOBs prewound bobbins
Step 3: Handy nets
On our longarm machines, both the mini cone and large cone sit on the vertical spool pin like any other cross-wound cone of thread. Metallic threads are inherently slick (compared to a cotton thread, like King Tut or MasterPiece), due to the metal foil that is a component of the actual thread, and can unwind off the cone, gathering at the base. I have found that by simply adding a Handy Net over the cone, about halfway covering the thread on both large and mini cones, the net keeps the thread in place and stops it from puddling down or gathering at the base of the cone. Handy Nets are a loose-fitting, lightweight mesh that doesn't increase tension to the thread as it unwinds, but does an amazing job at keeping thread from unwinding too quickly.
Step 4: Threading your longarm
Whether you're quilting with a cone or spool of metallic thread, there are a few steps to follow that will help you achieve Superior Stitchability with Superior Metallics. Even tension is a well known issue for metallic threads. I'm here to tell you that not only is it really easy to make the tension adjustments on your longarm machine, but it becomes second nature after your first quilt with metallic thread!
Thread your longarm machine in the same manner as any thread by placing the cone on the base or spool on the spool adapter pin. Continue threading through the thread guides on your machine as normal up to the three-hole pretension guide. Only thread through one of the holes of this pretension guide. By threading through only one hole, you will retain the ability to control tension via the tension knob and give you more control in dialing the correct tension quickly. Metallic threads are delicate and if threaded through all three pretension holes, the tension can be too tight resulting in thread breakage and frustration.
I have a habit of starting with my top tension on the looser end of the spectrum. I find it's easier to tighten my top tension as I perform my test stitches than it is for me to have my thread break, rethread, loosen the top tension, and repeat until my top thread stops breaking and my stitches are even. I recommend starting the tightening process, if necessary, with one full rotation of the tension knob, then make minor adjustments (looser/tighter) as necessary. As with all quilting, stitch off to the side to check and double check the top and bottom tension settings with the fabric and batting before beginning to quilt.
If you are quilting with a spool of Superior Metallics on your longarm, the thread should unwind off the side of the spool, not over the end. Generally, spools of thread that are stack wound (wound from the bottom up in a stacked manner, without visual crossing) perform better when unwound off the side. This is especially true for delicate threads, such as Superior Metallics and Glitter. Screw in the horizontal spool pin and insert the spool of metallic thread onto the pin. There's no need for a Handy Net. Skip the first two thread guides and thread through one of the three pretension holes, then proceed as mentioned above.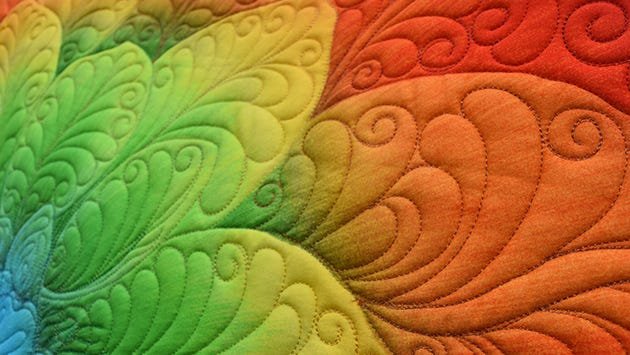 Colorful blend of Superior Metallics quilted
Quilting with black metallic thread
Step 5: Quilting
I've said this several times so far, but I'll say it again - metallic thread is a delicate thread. Because of this, slow down your stitching speed to ensure even stitches. Some quilters have machines that will stitch 2,000 SPM without blinking and other machines require slow and steady stitch density for successful metallic thread quilting. Use what I like to call quilter's choice, finding what works for you and your machine and making note of it, to set your machine, fabric, and threads in harmony. You may find that you want to thread through two of the pretension holes or run with your top tension so loose the knob is about to fall out. Experiment and find what suits your machine the best. Superior's Longarm Machine Thread Reference Guide is a great guide. Print it out and keep it close to your machine.
Final Step: Relax and shine
Trust me, any bit of personal tension in your hands, arms, shoulders, neck, or back will directly translate to your quilting. Take a breath, loosen your grip on the handles, envision the quilting design, and enjoy the process. A few deep breaths can work wonders for fluid quliting designs. By adding Superior Metallics to your quilting repertoire, you and your longarm machine will savor the quilting experience. The only decision to make at this point is which colors of Superior Metallics are you going to try first?
Back to Top