Superior Education
Needle FAQS
HOME MACHINE NEEDLES
SUPERIOR TOPSTITCH
Frequently Asked Needle Questions
Q: Can I use the HLx5 Needle on my new machine?
The HLx5 needle style is a home machine needle (it has a flat shank) which has been designed to stitch through heavy fabric and leather. It has a unique tapered shape to it, which helps form good stitches while stitching very fast (1,500+ stitches per minute). If you are not planning on sewing on thick fabric at that high rate of speed, our titanium-coated Topstitch needles will be a great needle for you to use. Our needles are fantastic for piecing and quilting and they're coated with a thin layer of titanium-nitride which makes the needle much more abrasion resistant than regular home machine needles, helping them last up to six times longer than standard nickel-plated needles.
Q: Can I use Superior's Topstitch needles to sew on denim?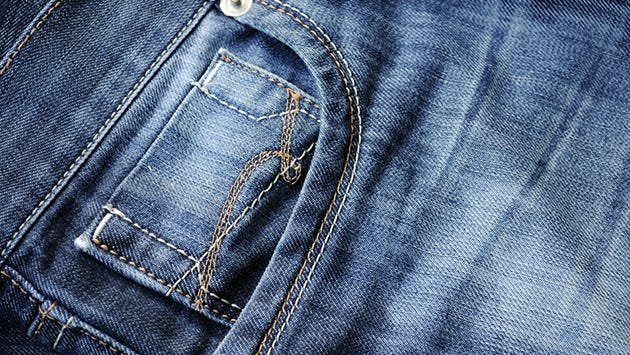 A pair of denim jeans with decorative topstitching
Superior's Topstitch Needle
If you are topstitching or sewing (garment construction) on denim fabric (the thickness of denim jeans), our Topstitch needles will perform well. A few traits we love about the Topstitch needle style are the larger eye and deep grove. The large eye accommodates thicker threads and helps reduce friction, reducing thread breakage and shredding. The light-sharp point will penetrate tightly-woven denim fabric without tearing the fibers. However, there is a word of caution to this scenario. If you are stitching heavy-duty seams on denim fabric, such as the french seam used for edges on pants, a denim needle will be more applicable. The denim needle has a very sharp point and a slender shaft which cuts through densely woven fabric like denim and canvas easily. If you are using a heavier weight denim fabric with a dense, tight weave, it may be more beneficial to use a denim needle too.
It's also a good idea to start out stitching at a slower speed so you can gauge how well the thread, needle, and fabric combination performs on your home sewing machine.
Q: How often should I change my sewing machine needle?
Great question. There are many differing opinions when to use a new needle. The every project designation is quite vague, because some quilts take much longer to piece and quilt than others. If new needles were required for every new garment that was sewn, clothing costs would skyrocket due to the increased needle expense. For this reason, we don't follow the use a new needle with every quilt mantra.
With Superior's titanium-coated needles, you will hear a different sound when sewing, a soft, constant "thud, thud, thud" when the needle is getting dull. This is because the thin layer of titanium-nitride coating is wearing off. Every time the needle penetrates fabric, there is a microscopic amount of wear on a needle, no matter what it is coated with (nickel, chrome, or titanium).
There are many other cues of a dulling or dull needle that are more recognizable, such as skipped stitches, having your top thread shred, and/or puckering while stitching. If your thread starts to behave strangely and you are encountering these types of problems whereas you weren't before, chances are that your needle should be replaced.
Q: Will Superior's titanium-coated needles fit my sewing machine?
Yes, our titanium-coated Topstitch needles fit ALL home machines. All home machine needles are based off a standard set of schematics. They have a flat shank at the top which makes it so the needle can only be inserted into the needle bar in one direction. There are however, many different styles of needles available for your home sewing machine, such as: topstitch, embroidery, universal, leather, double eye, sharp, ball point, etc. We chose the Topstitch needle style as our Superior needle because of it's larger eye, deeper groove, and light sharp point. We use and recommend our needles for sewing, quilting, piecing, embroidery, and more.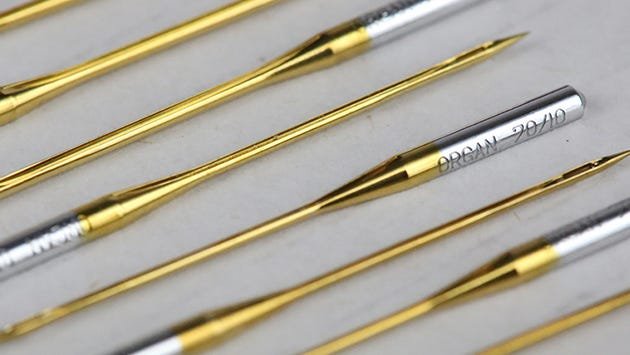 Superior's titanium-coated needles fit all home sewing machines
A universal needle (top) and Superior topstitch needle (bottom)
Q: Is there a special needle for free motion quilting on my Bernina?
The 'Special Application Needles' for longarm machines are created with special features, such as a unique shoulder/blade configuration and scarf shape. These industrial needles are exposed to much more stress than home machine needles. Longarm machine motors are the same type of motors used on industrial sewing machines which can stitch upwards up 1,800+ stitches per minute. A standard home machine can stitch around the 600-800 range with some of the high-end home embroidery machines stitching up to 1,000 SPM.
Adding a stitch regulator to a home machine is really neat, because it allows you to control free motion quilting with responsive movement, instead of static movement (the needle moving up/down at a fixed speed). However, you're not moving your machine in all directions when quilting with your BSR. You're moving the quilt in all directions while the needle stays in a static position. The multi-directional benefits of the SAN are due to the needle itself being moved in all directions (since a longarm machine is being moved to quilt while the quilt stays static) and it's ability to deliver positive stitch integrity.
Using one of our Superior Topstitch needles for your quilting will give you excellent performance.
Back to Top