Superior Feature
MOSAIC QUILTS
MICROQUILTER
HOME MACHINE
ART
By Heidi Proffetty for Superior Threads
Combining Art, Creativity, and Technology
The art that I create starts with the photos I capture. When I see a story unfolding, one that draws me in for a closer look or strikes an emotional connection that is exactly when I am reaching for my camera. My family knows this all too well. They often hear me say "hold on a minute, I need my camera, I see a great picture". I want to capture that story forever. But I don't just want to capture it with a photo like a photographer does, I want to capture it to recreate the story in fabric and stitching. I also love mosaic design and almost naturally started incorporating the use of it in my art quilts.
Once I have selected an inspirational photo, I open it in a photo editing program primarily to reduce the number of values and resize for drawing. Working directly on a print out of the edited photo, I begin transforming it into a mosaic hand drawing. Basically, I am creating contour lines and then filling the sections with various mosaic shapes. After the drawing is finished, I begin choosing fabrics, picking a good assortment of light, dark and medium values. I prefer tightly woven, batik and hand dyed fabrics that read mostly as solid colors but still contain enough variation for interest.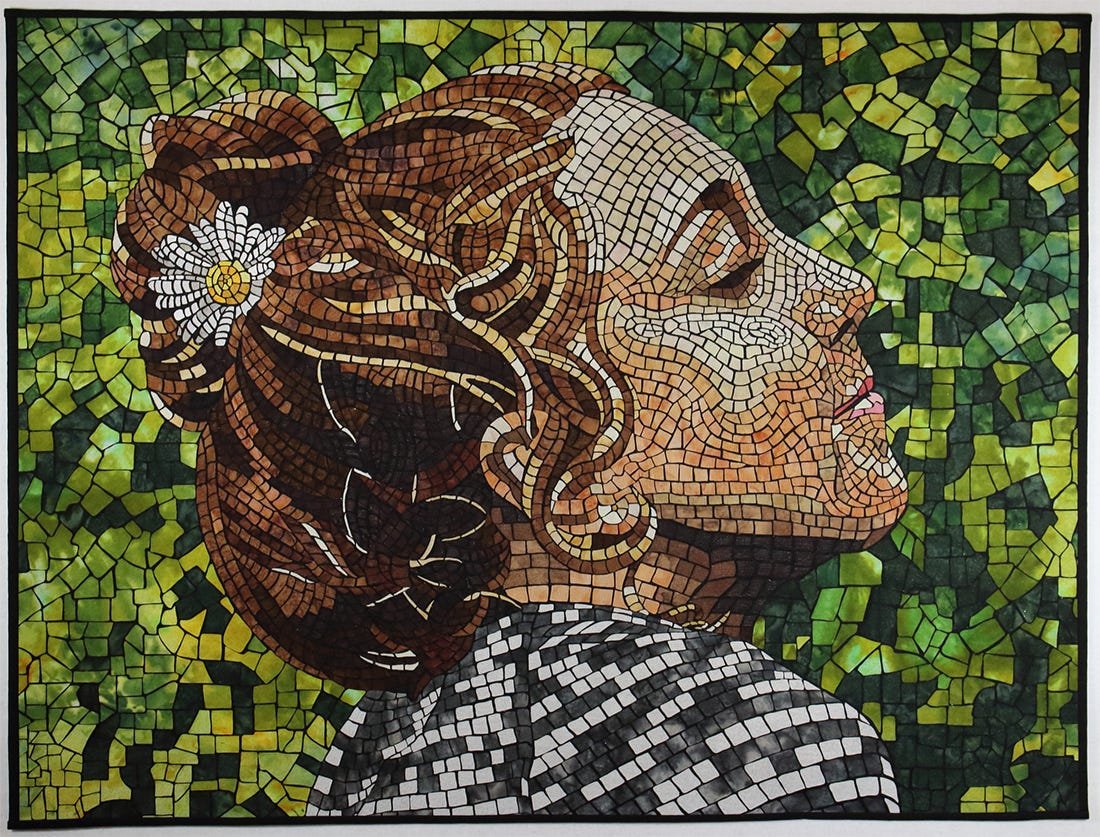 Then next part of my process welcomes in the use of technology. It may seem intimating to use technology in your art but I use the advantages of technology for convenience and quality. For ease and portability, I use an iPad and vector drawing app to trace the mosaic hand drawing. The vector drawing app creates a cut or .SVG file. This cut file can then be used with a digital or electronic die cutting machine to cut both the templates and the fabrics pieces. Now, you may be thinking, why not just use scissors and my response is quick - "the cutter just does it so much better than I can do". A digital cutter can cut fabric pieces with precision ranging from simple to intrigue while maintaining crisp, clean fabric edges.
Once the fabric pieces have been cut they are arranged and adhered onto a background fabric. The background fabric acts like the grout in a typical mosaic. This is when you can have some fun experimenting with different colored background fabrics to achieve different design effects.
Next the quilt layers are assembled and depending on the overall size of the quilt I will either use my sewing machine or mid-arm to free motion stitch on all those little fabric pieces. Usually, this is when someone might say to me "that must take you a long time" and typically I say back to that person "I love to sew and I absolutely enjoy listening to the hum of my sewing machine". The time I spent doing this part of my process does not matter to me. In fact, I probably spend less time stitching or quilting than most fiber artists because I am not continuously changing threads. I only use Superior's clear MonoPoly thread as my top thread and an extra-fine weight thread in my bobbin, like MicroQuilter. Together they work perfectly for the type of quality stitching and texture I am looking for to compliment my quilt.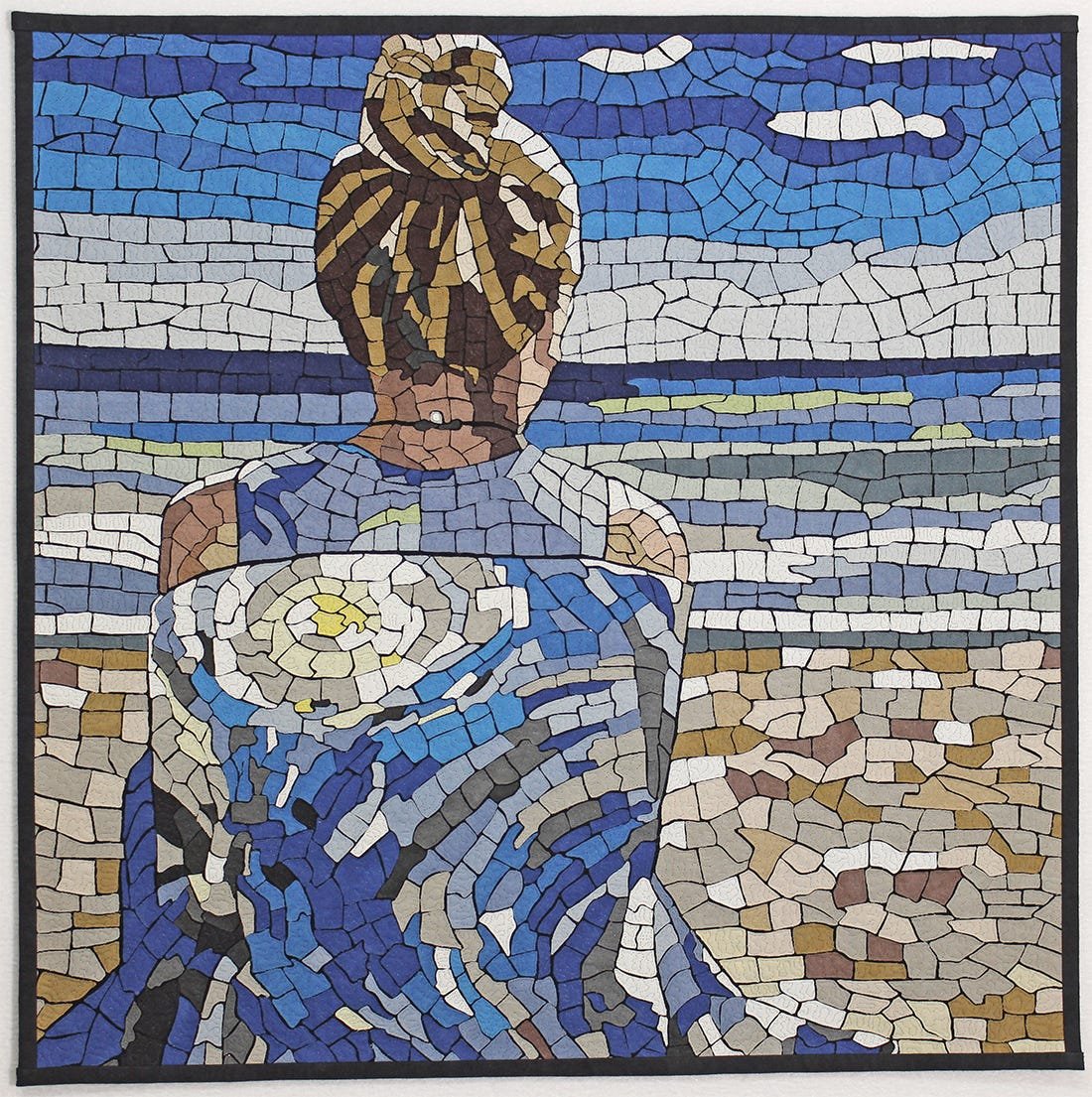 Although my process may seem a bit labor intensive, I believe that if you start with a source of creative inspiration that you are passionate about, choose tools and develop a process that works best for you then the end result will be a visually stunning piece of art with a story to tell.
Back to Top