Superior Star
HELEN STUBBINGS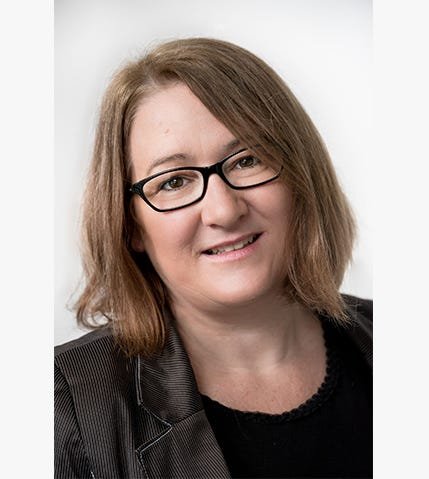 Helen hails from Hobart, Tasmania. She grew up on a farm, surrounded by the creativity of her dressmaker grandmother, florist mother, and a father who could make anything from wood or metal. Primarily, Helen is a pattern designer and teacher. Many of her works include all of her loves: embroidery, applique, English Paper Piecing, and machine piecing.
Helen tells us, "I use Bottom Line for my hand applique and English Paper Piecing. It is strong and fine, disappearing into the top fabrics, which is very helpful in the event that your stitch isn't perfect. It's great that Bottom Line comes in several convenient put-ups: bobbins, spools, and cones so you can always have some Bottom Line with you, whether in your sewing room or on the road. One of my "Aha!" moments was learning from an international teacher who used MonoPoly in her bobbins. This took my applique technique to a whole new level, crossing the threshold into the machine world. When I machine applique and English Paper Piece, I like to use Monopoly as both the top thread and bobbin thread. I don't have to fuss with tension. The applique stitch is invisible and the viewer is amazed at the perfect needle turn applique result."
- Helen Stubbings -
Favorite Thread: Bottom Line and MonoPoly
Non-Quilting Hobby: Family and Food
Quilting Since: 1995
Helen's Featured Quilts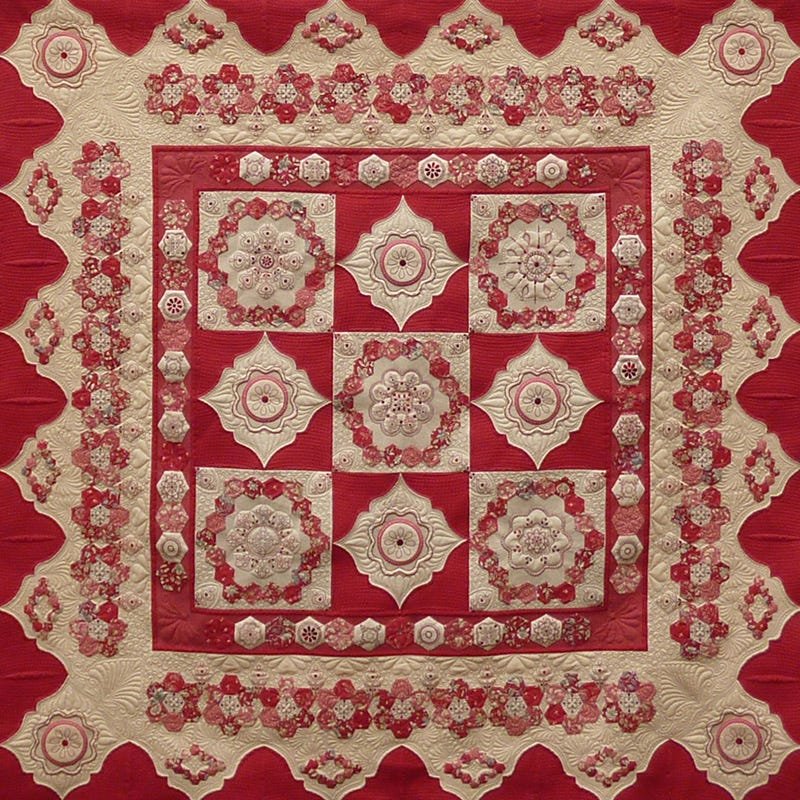 Cornelian
Cornelian was inspired by design elements at Cornelian Bay Cemetery in Hobart. This quilt began as a way to highlight my new iron on hexagon papers and applique paper. This quilt includes over 650 hexagons! It was quite the process to complete this quilt. First, the hexies were prepared using the iron on wash-away pre-cut hexies. After the hexies were prepared, they were joined into elements (flowers or rows) using Bottom Line. Next, embroidery was added to the shapes and finally the hexie elements were appliqued onto the background fabric. MonoPoly was used as both the top thread and bobbin thread to apply the shapes.
My applique paper is semi-water soluble, which means the paper doesn't need to be removed from the applique before stitching. It remained in the quilt and gave great stability through the piecing and quilting process. I loved using so many fun techniques on this quilt. Once finished, I had Tracey Browning of Constantine Quilts quilt it for me.
Flower Power
I seem to have a penchant for round – circles, medallions, round hoop designs. It satisfies my symmetrical brain and it's fun to design in the round!
Flower Power was designed to showcase a new colorway in my Basically Hugs fabric line. I was in a time crunch, and needed a design that would show off the color with a "wow" factor. Using my special applique paper and machine applique technique, this quilt came together very quickly.
All of the appliqued shapes were prepared over my applique paper. Shapes were hand-stitched together using Bottom Line in a blending color. Next, each piece was glued onto my background fabric. I glued every layer at once using Roxanne's Basting Glue. Then using MonoPoly as both the top thread and bobbin thread, I stitched the shapes to the background fabric. Finally, I stitched down the tiny ½" circles by hand in the outer row using Bottom Line. I love how this thread blends perfectly with fabrics. This quilt was quilted by Kat Jones of Two Cats Quilts.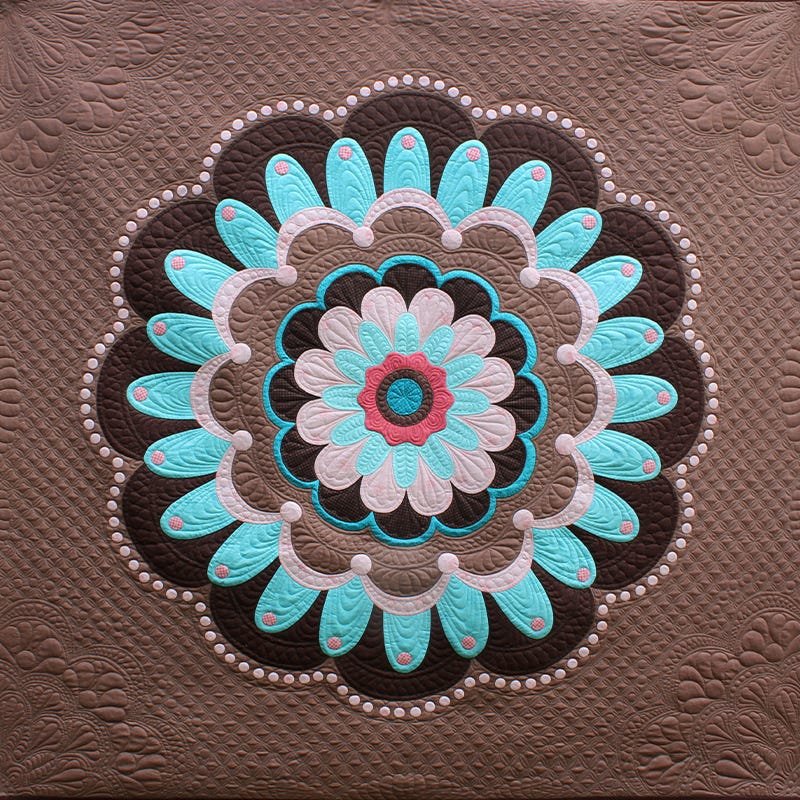 Back to Top