Superior Star
Kathy McNeil
Kathy McNeil is an internationally recognized award winning quilt artist. Her quilts are frequently featured in museums, magazines, calendars, and international shows . She is a teacher, designer, author, and, best of all, Kathy is a long standing member of TAS. Kathy's work is traditional in technique and realistic in style. She sews thousands of bits of fabric together by hand to create her pictorial quilts that have the look of a fine painting. She primarily uses hand applique to assemble her quilts. She is an engaging teacher, specializing in raw-edge, machine, and hand applique.
Kathy tells us, "Different thread weights and colors are an important aspect to the overall design and effect. Use them to enhance, hi-light, or soften the effects of the pictorial design. Kimono silk is my favorite thread for hand applique. It is a 100 weight thread in a huge variety of colors. This beautiful thread disappears into the fold and no one will ever see your stitches. My students are thrilled when they discover that they too can quickly achieve master results with this thread. I use Kimono silk for hand applique, Bottom Line for free motion quilting, and trilobal polyesters, like Fantastico, for machine thread play."
- Kathy McNeil -
Favorite Thread: Kimono Silk and Bottom Line
Non-Quilting Hobby: Playing with grandchildren
Quilting Since: 1997
Kathy's Featured Quilts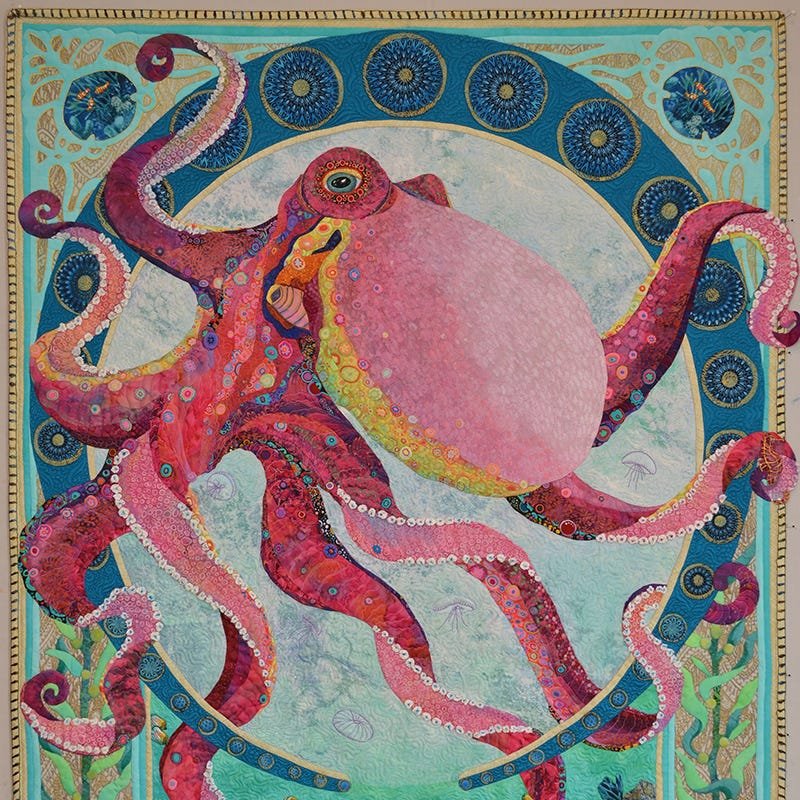 Song of the Sea
My Fantasy adventure with Ophelia was inspired by watching a Giant Pacific Octopus dance across the glass of her Seattle Aquarium tank while maintaining eye contact with me the entire time. These amazing animals have three hearts, eight merry legs, the ability to change color, mimic any print or texture, and escape from any container. They should be the Quilter's mascot. I began piecing together Ophelia for Song of the Sea before I had a complete vision for what the background would look like.
To add shading to my fabrics, I used paint crayons. It's so easy! Simply spray your fabric with a little water, draw on the fabric with the crayon, and use a paint brush to blend. Since the crayons are transparent, you can still utilize the print of the fabric.
My favorite part of pictorial quilting is adding the small, intricate details. Ophelia has 321 suckers made with tiny tiny silk organza Yo Yo's. It took a very long time to create the suckers to complete this special effect, but it was worth it! I took the hundreds of little pieces then turned them under and hand appliqued them to the background with the new Apliquick method. It would have been much longer without the Apliquick method.
Song of the Sea won Director's Choice award at Road to California 2016.
Jingle Bells
Jingle Bells took about 800 hours to make. My goal was to have the snow look like a watercolor painting of snow. A huge percentage of this quilt would be white and I did not want it to clump together in one big white blob. A variety of white prints were used and I over-dyed many of them with my transparent paint crayons. The crayons are a high end art medium for use on canvas and they work wonderfully on fabric, too. Most of the shading was achieved using these crayons on commercially printed fabrics.
The sky is a hand painted piece, by me, to reflect the lavenders that I used in the snow. Texture was created on the horses with embroidered eye lashes. I used a machine to add thread embellishments in the tack for the horses bridles. The jingle bells are made with gold lame cut out over black. Each one is trapuntoed with extra batting for dimension. The viewer can find all kinds of sparkle in the snow created with hand sewn sequins, hot fix crystals and a commercial bridal fabric that had sequins attached to a mesh like overlay. Gold metallic thread was used to create the lettering across the bottom (not shown in this photo) and then real jingle bells were attached. These special touches really help my quilt come to life.
Jingle Bells won four international Viewer's Choice awards and is one of my personal favorites, too. It is currently proudly on display at Superior Threads' headquarters in St. George, Utah.
Back to Top