SUPERIOR'S BOBBIN THREADS
Superior offers many different threads which can be used in the bobbin, across a multitude of cotton, silk, and polyester fibers. These threads can be used as both a top thread and/or bottom thread. Fiber and weight choices are personal preference and largely depend on the desired overall appearance of the project.
The most common thread type used as a bobbin thread is a thin, filament polyester thread, such as Bottom Line. Smooth threads can be stitched at a high speed, reducing puckering and risk of excess grabbing of the fabric.
We LOVE using prewound bobbins when quilting, sewing, and embroidering. The convenience of not having to stop to wind bobbins during the middle of a project is so valuable. Prewound bobbins also have much more thread wound on them than a self-wound bobbin. This is because of the high tech machinery used during the winding process allows for a tighter wind and more thread wound onto the bobbin core.
It used to be universally accepted that using white or black thread in the bobbin was good enough, maybe even all you need. That's not the case at all. Using a neutral-toned color in the bobbin helps hide tension inequality since the top thread and bobbin thread are similarly colored. Whether you choose to wind your own bobbins or enjoy the convenience of prewound bobbins, using a quality bobbin thread is an important aspect of sewing.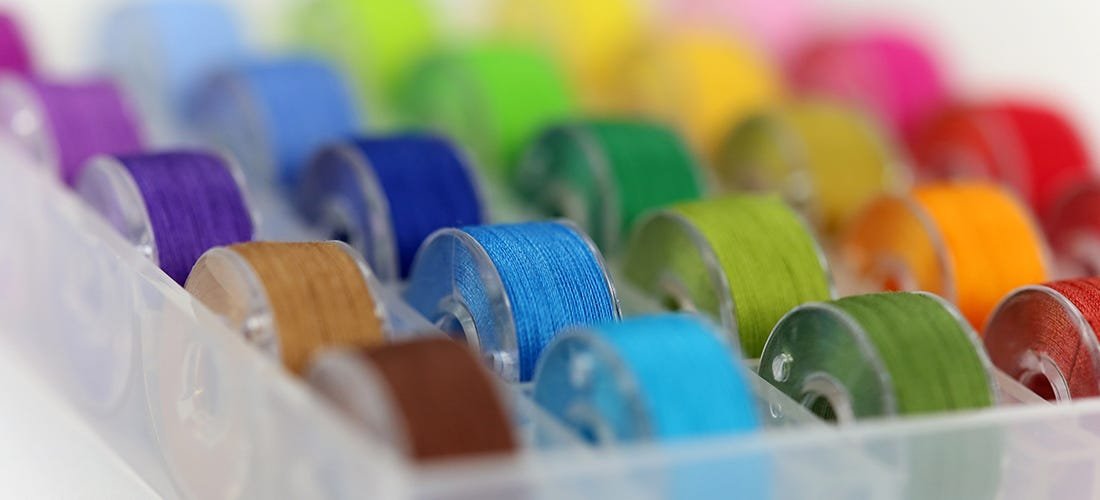 Super Bobs Cotton prewound bobbins with MasterPiece cotton thread
Our Bobbin Threads
Bottom Line
60 wt./2-ply polyester thread. Designed for applique, bobbin thread, and quilting. Lint free never felt so good. Designed with award-winning quilter Libby Lehman, The Bottom Line makes a fantastic bobbin thread for any type of sewing. Its lightweight, blending colors are easily matched with any top thread. Available in 55 colors. Invisible applique and binding is a breeze with Bottom Line as it glides through layers of fabric.
MasterPiece
50 wt./3-ply Egyptian-grown extra-long staple cotton thread. Designed for piecing, sewing, and quilting. MasterPiece is a strong, low-lint cotton thread that doesn't add bulk to your seams. The fine cotton fibers help to grab the fabric and create a tight stitch, even while stitching at a high speed on a longarm machine. A fine matte finish allows MasterPiece to blend well and also makes it a fantastic choice as a bobbin thread when sewing.
MonoPoly
100 wt. (.004" in diameter). MonoPoly is a reduced-sheen monofilament polyester thread and is the best choice when it comes to invisible threads. Unlike other monofilament threads made from nylon, MonoPoly is 100% polyester. Commonly referred to as an invisible thread due to its fineness and reduced-sheen, MonoPoly is great for the bobbin or top. Available in two colors, smoke (for dark fabrics) and clear (for light fabrics). MonoPoly is ideal for invisible applique and quilting when the stitching is not meant to be seen. MonoPoly is recommended over nylon monofilament threads because MonoPoly will not become brittle over time (nylon monofilament thread tends to go brittle), MonoPoly will not discolor (nylon monofilament thread tends to yellow over time), and MonoPoly is dryer and iron safe on medium heat.
So Fine! #50
50 wt./3-ply polyester thread. Designed for quilting, sewing, and to be used in the bobbin. So Fine! #50 is a lint-free, matte-finish, smooth filament polyester thread. Due to its fine nature, So Fine! #50 is an excellent blending thread and loved by both longarm and home machine quilters. Available in 134 colors.
So Fine! #60
60 wt./3-ply polyester thread. Prewound Class 15 Bobbins designed for sewing and quilting. So Fine! #60 is a lint-free, matte-finish, smooth polyester thread. Wound onto plastic-sided Class 15 bobbins, So Fine! #60 is a fantastic thread to use for sewing, quilting, and embroidery. Being a lightweight thread, it doesn't add bulk to seams and is flexible when stitching embroidery designs.
Super Bobs Cotton
50 wt./2-ply Egyptian-grown extra-long staple cotton thread. Super Bobs Cotton are prewound bobbins that are wound with our MasterPiece thread. Available in 50 colors, in both L-style and Class 15 bobbins, you'll love the convenience, quality, and superior stitchability. Fine enough to not add bulk at the seams, the matte-finish colors help the thread blend into the fabric. Super Bobs Cotton are the go-to prewound bobbin for piecing and sewing.
Back to Top