Superior Education
ABOUT SUPERIOR NEEDLES
TOPSTITCH NEEDLES
TITANIUM COATING
HOME MACHINE NEEDLES
The Qualities of Superior's Needles
When we decided to work with Organ Needle Company to develop a Superior needle, there were specific traits we wanted in a home machine needle. Durability, quality, proper stitch formation, and a long needle life. We are very proud of our Superior needles, especially since we were able to combine these important attributes into a home machine needle. Our titanium-coated Topstitch and Microtex needles are used and recommended by the pros for sewing, quilting, embroidery, applique, piecing, and more.
Our go-to needle style is the Topstitch needle style. Topstitch needles have a larger eye (nearly twice as long as a universal needle), a deeper groove (to help protect the thread from excessive abrasion during stitch formation), and a light sharp point. We have extended the life of the needle by adding a thin layer of a ceramic, extremely-durable material called titanium nitride. This thin coating doesn't make the needle stronger (in terms of breaking strength); it increases the abrasion resistance of the needle at the point, extending the life of the needle by staying sharper, longer. Titanium nitride is the same coating found on surgical instruments, drill bits, and commercial tools due to it's amazing ability to keep tools in tact longer than uncoated steel or nickel-plated steel (standard sewing machine needles are nickel plated).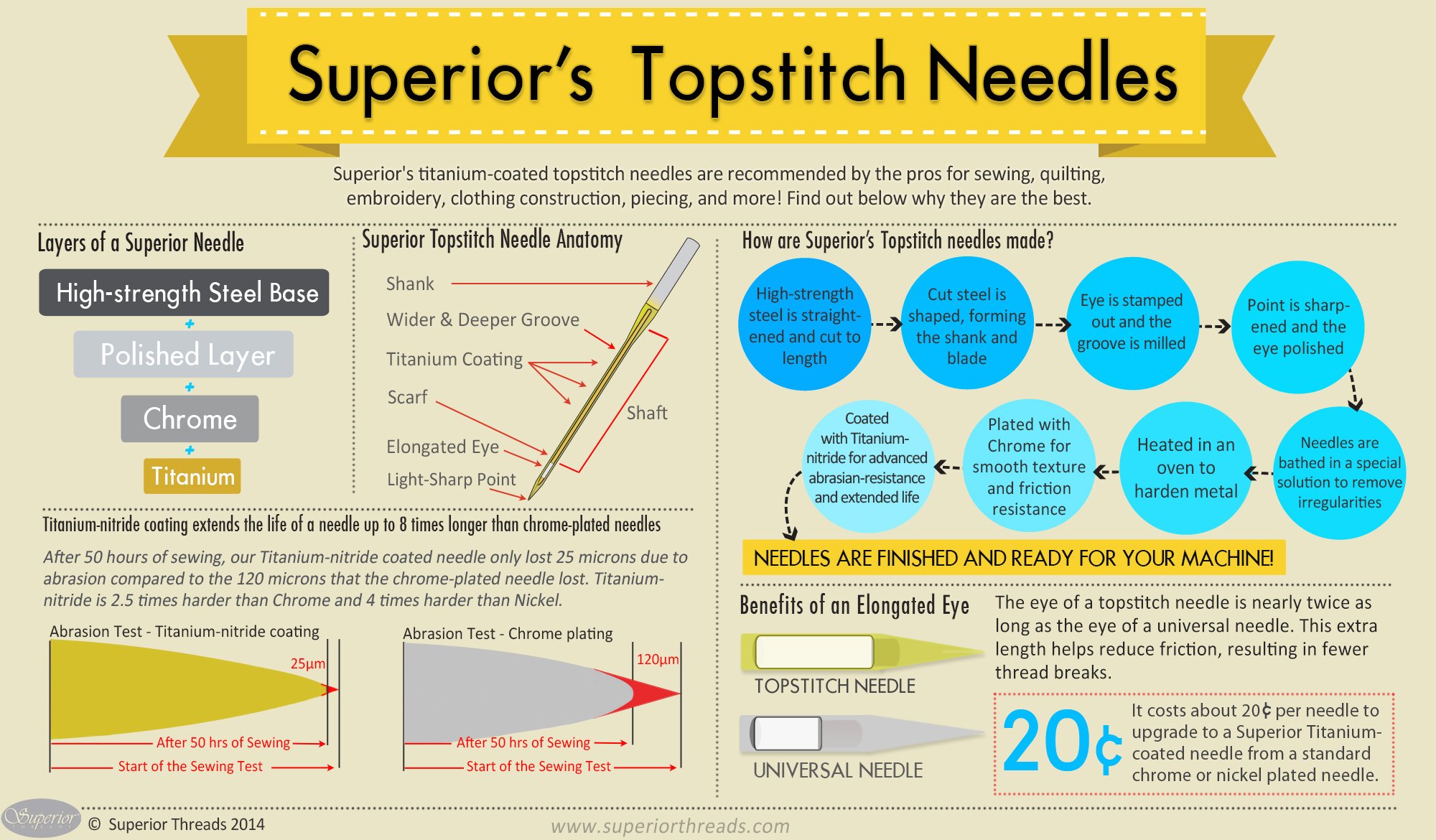 There are many styles of home machine needles available. While some applications truly benefit from using a specific needle type, such as the Microtex needle when appliqueing with a fine thread, or twin needles for pintucks. We really like the Topstitch needle style for piecing, quilting, sewing, and embroidery.
You may see needles with a chrome or chromium plating. Chrome-plated needles offer good abrasion resistance compared to an regular nickel-plated needle. However, chrome-plated needles do not offer as good of resistance as titanium-nitride coated needles. Titanium nitride is about 2.5 times harder than chrome and 4 times harder than nickel.
An in-depth explanation about popular needle styles and their designed use cases:
130/705H (15x1, HAx1)
This is the Universal home machine needle on which many styles are based including: Sharp, Topstitch, Embroidery, and Quilting. These needle styles are based off the 130/705H but have different qualities such as plating/coating, point type, eye length, groove width, etc.
15x1 SP
This needle designation denotes a stretch needle. It is usually paired with a ball point and used for stretchy and/or elastic knit fabric. The rounded point gently separates fibers instead of cutting through delicate knit fabric.
HLx5
There is slight difference with the shape of the shaft with this needle which makes it stronger than the standard 130/705H (Universal) needle. This needle is commonly used on high-speed, straight stitch machines for sewing on thick fabric such as canvas, denim, and leather at speeds of 1,500+ SPM. It is chrome plated.
HAx1LL (15x2, HAx2, 130LR)
This needle is the Leather needle. It has all of the same features as a 15x1 needle, with the addition of a lens-shaped point to cut through leather and other heavy materials. It has a sharp, cutting point.
ELx705
This needle is made specifically for cover stitch machines and sergers. It has 2 grooves, one in the front of the needle shaft and on on the back of the needle shaft, a slightly longer scarf, and a light ball point.
HAx1SP
This needle is for sergers and overlock machines and is nickel plated. It has a ball point that won't cut through the fibers of knit fabrics. This needle is considered the universal needle for sergers.
Back to Top