Superior Education
DECODING NEEDLE NUMBERS
GROZ-BECKERT NEEDLES
LONGARM NEEDLES
NEEDLE SYSTEM
NEEDLE POINT
Needle styles, systems, and numbers
Several years ago, Groz-Beckert purchased Singer's industrial needle division. The yellow Singer needle cases of yore will soon disappear and all Groz-Beckert needles will be in the standard green plastic sleeves. The green packs have gone through several design and label iterations, most recently with the addition of a unique data matrix code printed on the bottom half. There are a few style characteristics that define important aspects of needles. Because Groz-Beckert produces thousands of types of needles (their product catalog is as thick as a phone book), it's helpful to know what the numbers printed on the label mean, so you can cross reference between the many versions of packaging in the marketplace.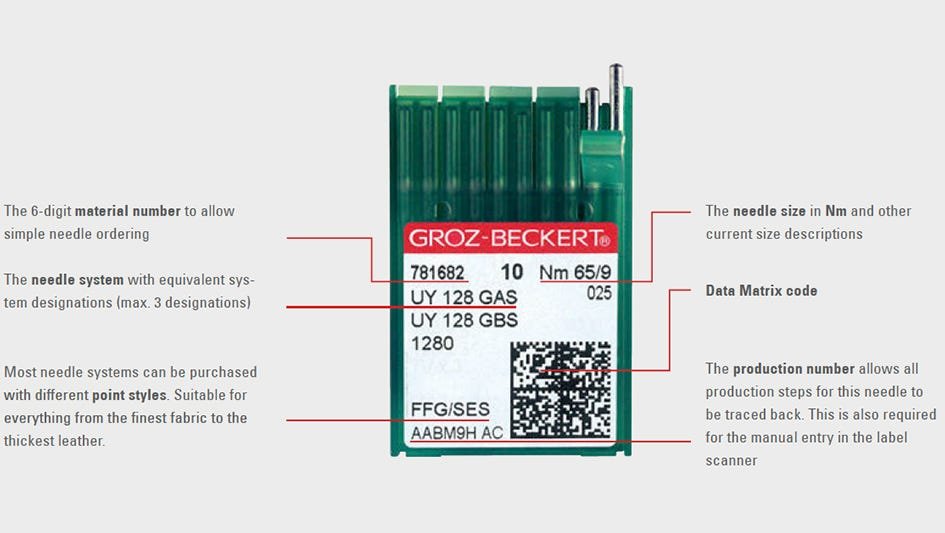 If a needle has the word Gebedur printed on the label, this indicates that the needles are titanium-coated. A thin layer of titanium nitride helps keep the point of the needle sharper up to six times longer than standard nickel-plated needles. Titanium-coated needles also have a gold color as an obvious visual queue.
The numbers and characters that will help you in selecting the right needle based on your desired sewing or quilting application is the needle system, needle point, and needle size. For longarm quilting, the most common points are the FFG and R point. Certain longarm companies swear by the FFG and others swear by the R point. We say, use what works best for you. Needles are not expensive and it's worth having a selection of needle sizes to accommodate the many threads in your thread stash. Thicker threads should be paired with a larger needle.
Back to Top