Superior Education
ABOUT METALLIC THREADS
METALLIC
SPECIALTY THREADS
EMBROIDERY
Superior Metallics threads are guaranteed to work
Our Metallic Thread is a gorgeous choice for quilting and embroidery work. Available in 25 colors, including 2 variegated colors, Superior Metallic thread is strong enough to handle longarm machine quilting and commercial embroidery machines.
Unfortunately, there are cheap metallics available in the market and they give Metallic Thread a bad name and image. Not all Metallic Threads are created equal. Some companies skip over manufacturing steps which results in a bad sewing experience. When priced per yard, you may be surprised to find that a small spool of cheap metallic with ~150 yds is more expensive than a spool of high-quality metallic with 500 yds.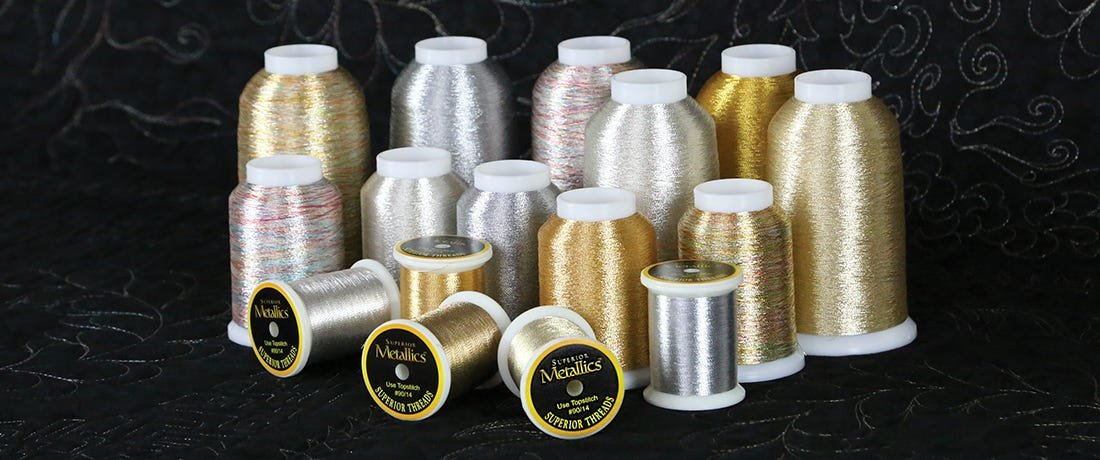 How Superior Threads Metallics are created:
9 micron polyester shell (An average strand of human hair is about 60 microns thick)
Gold coloring
Pure Silver Foil
Oxidation Preventive Coating
Adhesive
Rice Paper
Extra-strength Nylon Core
Rice Paper
Adhesive
Oxidation Preventive Coating
Pure Silver Foil
Gold coloring
9 micron polyester shell
High-quality metallic thread will have three essential components:
An extra strong nylon core is an indication of strength and quality. Polyester and rayon are weaker, and a nylon core, combined with 'paper-pasting', prevents tangling.
The best metallics have a layer of rice paper pasted over the nylon core. This adheres the nylon core to the metal, resulting in a stronger thread.
A protective coating over the outermetallic layer, like a thin polyester shell, reduces friction. This means fewer breaks, and protects against fraying and shredding.
What makes Superior Metallics so superior? Not only do we use the finest raw materials to create this beautiful thread, it undergoes special processing to make it vibrant, strong, and smooth. Although Metallics are considered to be a delicate thread, if you loosen your top tension down to "1" (for home machines), use the correct needle size such as a Topstitch #90/14 (for home machines) and a size #19 or MR 4.0 (for longarm machines), and use a lint-free polyester thread in the bobbin, you will enjoy using metallic thread in your projects.
Back to Top