Superior Feature
QUILTING WITH OMNI
LONGARM QUILTING
OMNI
URBAN BLISS
By Valerie Funk for Superior Threads
Bold and colorful quilting with OMNI
My name is Valerie Funk and I like to call myself a quilt artist. I earned my degree in photography and graphic design but in 2010 had grown bored with my craft and began looking for a new way to create and express art. In late 2010, I signed up for a beginning quilt class at my local shop and learned all about the basics of quilting. Prior to this class, I didn't even know how to sew! I was immediately enamored with the world of textiles. So many textures, colors, and infinite creative possibilities just waiting to be explored. After learning the basics, I started looking for ways to merge my passion for art and design with my newly discovered love of quilting.
Since I started my quilting journey, I have designed, pieced, and quilted over 250 quilts. Some are full size bed quilts, others are artistic wall hangings and I've created a handful of little creative works of art. Even though I've quilted a broad range of quilts in many shapes and sizes, until the creation of Urban Bliss (the quilt featured below), I had yet to make a wholecloth quilt. This article highlights the story of my Urban Bliss wholecloth quilt, quilted with OMNI polyester thread from Superior Threads.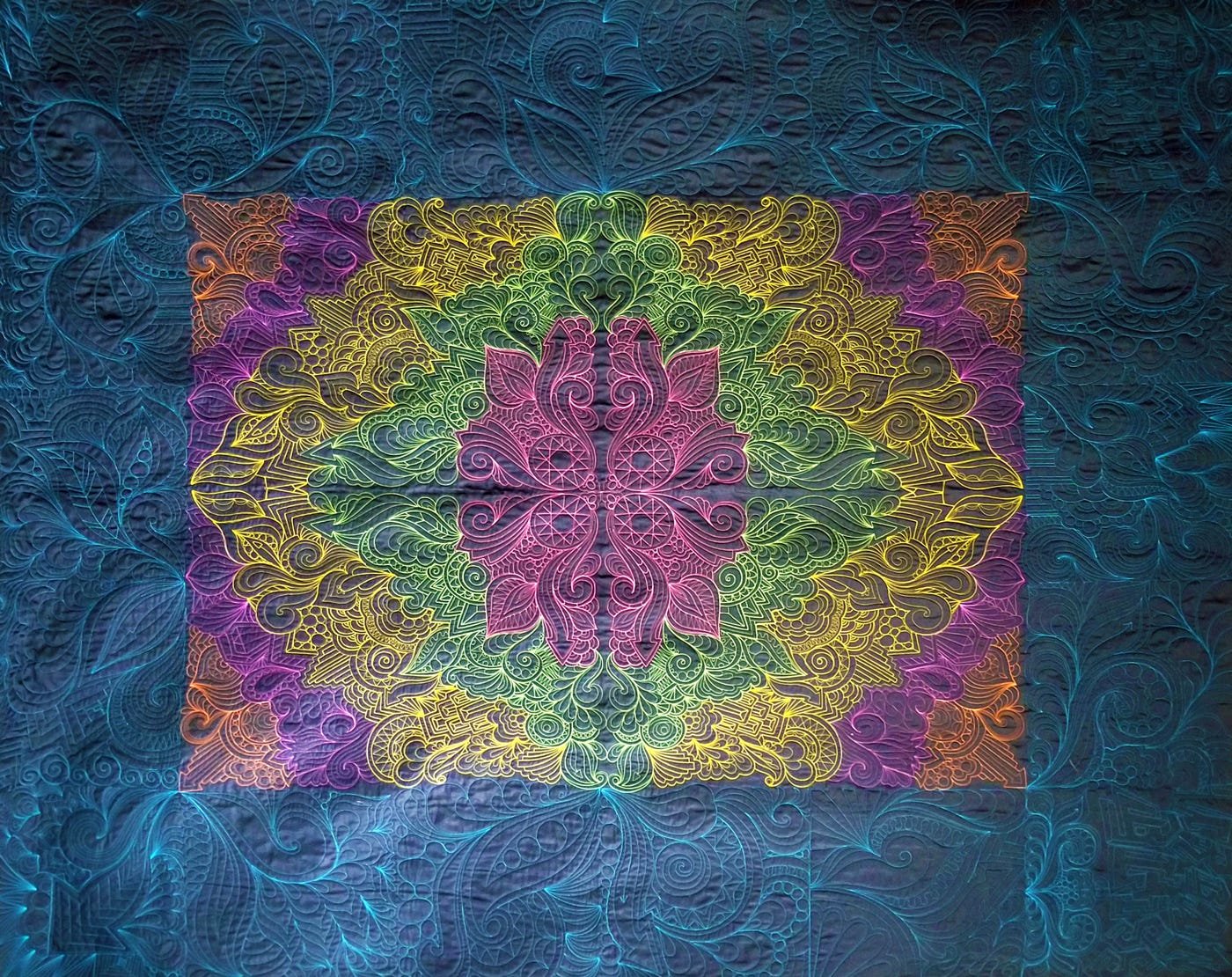 I have always admired the artistry of wholecloth quilts. I love the designs, layouts and how the emphasis of the quilt is on the elaborate threadwork. The challenge for me was that I loved color and texture and a solid white or cream-colored wholecloth didn't appeal to me. So I decided to add my own artistic touch to a wholecloth quilt and create my masterpiece.
I wanted my base fabric to be black and chose Fabri-Quilt's Black Sateen. It is a luscious black cotton fabric that is graciously 118" wide, has a slight sheen on one side and a smooth finish throughout. I selected an equally delightful gray sateen for the back, also by Fabri-Quilt. This was a perfect start to my wholecloth adventure.
I quilt on a Gammill Statler and wanted to quilt uniquely fabulous digital designs on this project. I found Karlee Porter's Graffiti Style Quilting designs (many of her designs are digitized freehand and this really impressed me) and was blown away by the creativity and the presence of the designs.
Urban Bliss text digitized design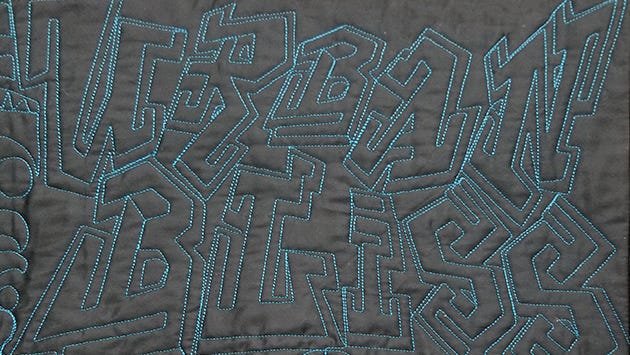 Urban Bliss text stitched with OMNI
There's a range of patterns and designs that Karlee Porter has digitized. From smaller, block-size patterns to patterns that are meant to be fill up a mini wholecloth quilts. My Statler longarm has 23" of throat space, so I needed to find a design that I could stretch much larger (I wanted to make a large wholecloth quilt. Go big or go home, right?!). I chose a rectangular-ish pattern that was set on a diagonal. I envisioned this design being 1/4 of the centerpiece and by manipulating, rotating, and mirroring the same design three more times, it would captivate my attention.
With the designs chosen and loaded onto my longarm, it was time to select the medium of choice, thread! One of my all-time favorite threads is OMNI by Superior Threads. There's a huge variety of colors, 172 to be exact, and the color selection is both wide and deep. There's a dozen neutral colors, at least a dozen blues, probably two dozen reds, and even more shades of green. Choosing just one color is like going to the home improvement store and only choosing one paint sample, you just can't do it. Honestly, I think I own nearly every color. OMNI is by far my favorite and most-used thread. In addition to the color selection, each cone is wound with 6,000 yds. of thread. I can put a lot of detailed quilting and dense stitching without worrying about running out of thread.
Because my base fabric was black, I wanted to use bright and bold colors of OMNI to really show off the threadwork. I love how bold contrast stitching appears against base fabric and wanted to colors that look like they jump off the quilt. The main pattern called for 5 different colors in the centerpiece and I selected a different color for the outside border patterns. The colors that spoke to me where: lime green, bright pink, sunshine yellow, flaming orange, subtle purple and a beautiful teal blue.
Gorgeous OMNI polyester thread
I think I own all 172 colors of OMNI
Using my Statler's computer software, I was able to create the layout which provided me with the overall dimensions to size my fabric. With a little bit of pattern manipulation, I created the centerpiece layout, which consisted of four individual rectangle patterns. Four patterns x five threads each = twenty total thread changes (without taking into account the border thread). I wanted to add a bit of flair to the two upper corner blocks so I used existing designs and added my own graffiti-style font to create the Quilt Artistry and Urban Bliss blocks. Quilt Artistry is what I like to call this crazy quilting thing I do and Urban Bliss is a tribute to the many patterns and designs I used from Karlee Porter's Bliss collection. Urban Bliss is also what I named the quilt.
Many quilters think that because I have a computerized machine, the quilting process is totally automated. Well, it really isn't. There is so much more involved than turning a computer on, waving your hands around, and saying "Go Go Statler Quilter!". Having said that, I actually created three versions of this quilt before I got the process right. That's right, three! Each of the three quilts took nearly 64 total hours to create. I wanted to create a masterpiece, so everything had to be perfect - the layout, the colors, the overall appeal, the blend, and the experience. I wanted it have that special look, that special wow factor. All the changes I made from the first quilt to final quilt were either changes in thread color selection or changes to the shapes and locations of the digitized patterns.
I laid my fabric on my table and carefully marked everything with a white fabric pencil. I marked the centers in both directions, marked the exact position for each quarter of the centerpiece layout and each of my border squares. Not all the border patterns were the same width, so I had to be sure to mark each pattern correctly to assure everything would line up. I used black batting to mitigate the risk of bearding or seeing specks of white through the fabric. I took my time basting all layers together and started quilting in the center of the quilt.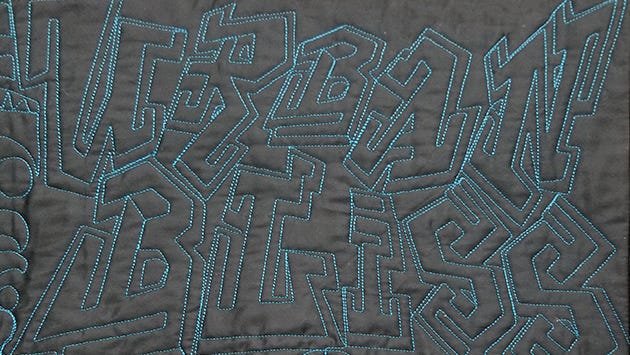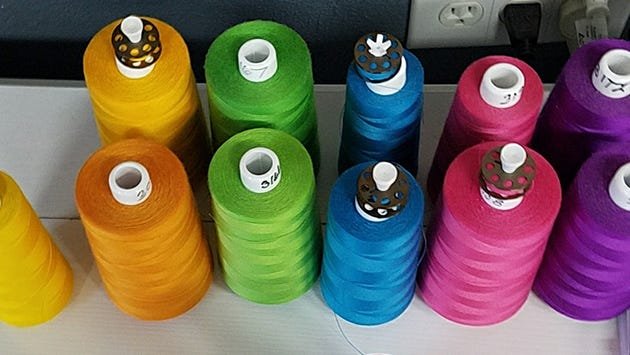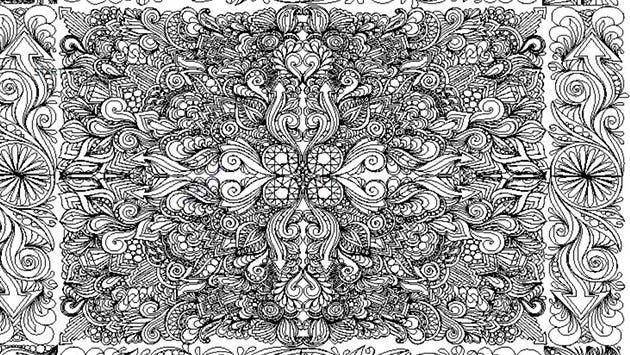 The first color was bright pink. As soon as I started stitching, I could see the wow factor coming to life. Right off the bat, I knew pink was the perfect choice. The contrasting bright colors of thread on the dark base fabric was mesmerizing. The second thread color was lime green. Again, I was excited to see the stitches create a beautiful pattern of color across the fabric. It seemed like with each new color of thread, shades and tones were erupting from black fabric. I quilted the first two quarters, rolled the quilt, quilted the bottom two quarters, then rolled the quilt back to the first position. Now that the quilting was done, I took the quilt off the frame, squared it up and prepared it for binding. By this point, you have read many times how much I love quilting and the creative process in making quilts. Do you know what I don't love? Binding!
Binding is definitely not my favorite part of the quilting process, although I know it must be done. Thankfully, I have a fantastic neighbor, Debbie, who is a quilter and she loves binding quilts. She uses a special technique of binding by machine, and let me tell you what, it is perfect every time. So now when I am finished with the topstitching process of a quilt, I take all my quilts to her and she does a fabulous job adding that final touch to my special little creations.
With the binding complete, I hung Urban Bliss on my wall and took it all in. This quilt, which is approximately 74" x 94" has over 495,000 quilted stitches! I absolutely love the way that the colors of OMNI pop off this quilt. It was exactly the look I was going for. It's fun, funky, modern, and definitely not your grandma's wholecloth quilt! Sometimes, it's all about the thread and fabulous designs that give a quilt its character.
Back to Top