Superior Feature
WOOL APPLIQUE + CREATIVITY
SEW SASSY
WOOL FELT APPLIQUE
BEADING
By Mary Mittelstadt for Superior Threads
The thoughts of a wool worker and designer
I discovered the world of wool work in 2011 and haven't looked back since. Although I haven't totally forsaken traditional quilting, working with wool has become one my favorite mediums. I've been a quilter for over 30 years and have done just about everything there is to do with a sewing machine, so learning something new is always exciting.

This was my first project with Sew Sassy. I love colorful projects, so I chose 15 beautiful colors and gathered wool felt, felted woven wool, beads, and started to create. Initially, I was slightly concerned about the thickness of Sew Sassy, that it may be too thin for my preference. I generally use threads that are a bit heavier, or thicker in diameter. However, I was pleasantly surprised with Sew Sassy's soft hand, slight fuzziness and its nice, soft sheen. I doubled the thread in areas where I wanted to have extra heft and thickness. Sew Sassy is strong and with the correct needle, I could actually sew the beads onto the wool without resorting to a beading thread or beading needle.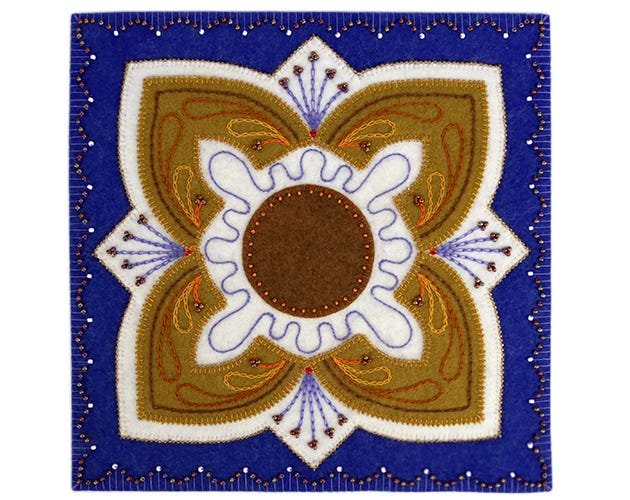 The first project I made was a Blue Flowers table mat. I used Sew Sassy thread throughout the entire project. This table mat is made of felted woven wool. I loved how the stitches sink into the wool, due to the characteristics of this medium. I used a variety of stitch types and techniques: blanket stitch, straight and stem stitches, as well as french knots throughout the design. The thread pulled smoothly and the stops and starts were easy to hide in between the layers. Other than the fact that I am notoriously famous for using very long lengths of thread which in turn calls for sometimes far too much unspinning of the threaded needle, I decided that Sew Sassy thread was worthy of a place in my arsenal of materials. I love the way the Blue Flowers table mat turned out so much, I may just have to write this up as a pattern!
For the second project, I changed the medium to wool felt (instead of felted woven wool) and found that the thread pulled a bit more smoothly and it seemed to sit on top of the felt, making it more visible. Again, the starts and stops were easy to hide in the layers of the wool felt fabrics. I was very pleased with the strength of Sew Sassy and how it held the beads securely in place. I love the color depth and the slight sheen of the thread. It added more dimension and life to both projects. The colors are more vibrant and beautiful in person than when viewing on the computer.
To any of you who might be reading this and wondering if you should try working with wool, or for that matter, any new material including threads, fusibles, beads, etc., don't get too hung up on the rules. I give you permission to not listen to the quilt police and try something that's against the conventional rules. Try different things and pay attention to the nature of the materials. My last tip: replenish your thread and fabric stash frequently!
Back to Top