Superior Star
Katherine Pfitzinger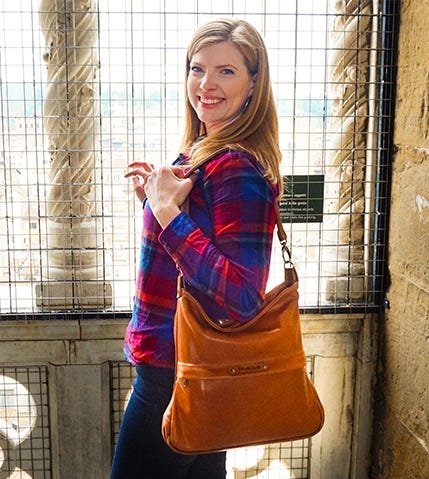 Katherine Pfitzinger designs and hand-makes her line of custom PfitzSewSwell Original leather goods one-by-one in her home studio in Denver, Colorado. Creativity flows through Katherine's veins, whether in singing or speaking foreign languages. Her passion for sewing and the beauty of expression through color—coupled with a love of establishing meaningful connections with others—leads her to create customized, one-of-a-kind products. PfitzSewSwell is known for its attention to detail, client-centric service, and signature pops of color. As Katherine says, handcrafted couture never fit so swell!
Katherine tells us, "The caliber of my products is largely determined by the quality of the components from which they are constructed. Thread is the binding component holding each and every PfitzSewSwell Original together. I use industrial sewing machines to construct my bags; use of such heavy machinery means I need to use heavy thread. The Bonded Polyester line provides exactly what I need to craft gorgeous, durable bags. It is strong and resistant to shredding and fraying, unlike so many others I've tried. My favorite color is gray; not only does it match the hardware I use, but it creates a beautiful contrasting topstitch, too! When I use Superior Threads' industrial machine needles and Bonded Polyester thread, I sew confidently and efficiently!"
- Katherine Pfitzinger -
Favorite Thread: Bonded Polyester
Non-Quilting Hobby: Singing and World Travel
Quilting Since: 1998
Katherine's Featured Originals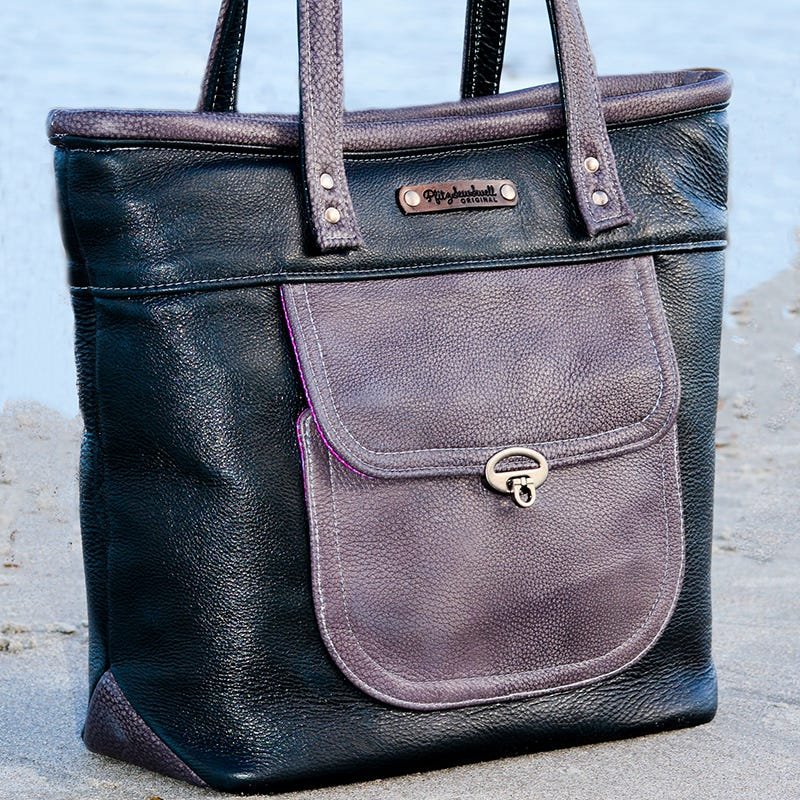 Amalfi Tote
I designed the Amalfi (ah-MAHL-fee) Tote after struggling to haul all the materials I needed every day while in my final internship for speech-language pathology in graduate school. I love implementing triangles into all of my designs and it fit so perfectly to contrast the main leather with a triangular pop of color in the base. Bonded Polyester thread is prominently featured on the decorative topstitching of the front pocket and around the rim of the bag. The Amalfi is the largest in my line at 17.5" wide, 14" tall, and 6" deep. Though I have stuffed it to the brim with very, very heavy materials time and time again, I have never once doubted it will hold strong and sturdy thanks to the thread keeping it together!
Maremma Hobo
The Maremma (mah-REHM-ma) Hobo came about due to my love affair with the hobo bag style. I wanted to design something that would present a versatile, classy, and timeless addition to my collection. The flapped exterior zippered pocket and the bottom gusseted panel are topstitched to add visual interest to the most intriguing parts of the bag. The gray Bonded Polyester thread pops no matter what color the exterior of the bag might be, and it matches anything! This bag is 15" wide, 13" tall, and 4" deep, so while still slimline, it houses whatever needs to be toted around without being too bulky, which is highly important when on-the-go!
Back to Top